Press
WSC Proudly Celebrates 40 Years of Service to The Bahamas & renames headquarters for former GM Moss

 Platform from left to right: Mrs. Sandra Edgecombe, Deputy General Manager, Water and Sewerage Corporation; Dr. Adrian Moss (son of  honouree E. George Moss); Rt. Hon. Perry G. Christie, Prime Minister and Minister of Finance; Her Excellency Dame Marguerite Pindling,  Governor General; Hon. Phillip Davis, Deputy Prime Minister and Minister of Works and Urban Development; Mr. Leslie Miller, Chairman  of the Board of Directors, Water and Sewerage Corporation; Mr. Glen Laville, General Manager, Water and Sewerage Corporation;  Monsignor Alfred Culmer.
The Water and Sewerage Corporation (WSC) was incorporated on July 14, 1976 by an Act of Parliament, and began its service to the country with the mandate to meet the increasing demand for potable water on the Island of New Providence.
Since that time, it has expanded its service to cover the entire Bahamas (except Grand Bahama), and now boast a compliment of nearly 430 staff members, dedicated to providing fresh, clean, and reliable water to homes and businesses across the archipelago.
Last Friday, in celebration of its 40 years of success, the Corporation proudly recognized one of its own, former General Manager, E. George Moss, by renaming its Thompson Blvd. headquarters in his honour. Mr. Moss served as General Manager of the Corporation from February 1977 until his retirement in March 1999, and oversaw many of the Corporation's major achievements and improvements, some which still benefit the islands today.
The Renaming Ceremony was held on the grounds of the Corporation, with attendees including the Governor General, Dame Marguerite Pindling, Rt. Hon. Perry G. Christie, Prime Minister of The Bahamas, Hon. Philip Davis, Deputy Prime Minister, Mr. Leslie Miler, MP and Chairman of the WSC Corporation, as well as former Prime Minister, Rt. Hon. Hubert A. Ingraham, many current and former Parliamentarians, heads of other Utilities, and current and former employees of the Corporation and distinguished guests.
Speaking at the event, General Manager, Mr. Glen Laville, spoke highly of Mr. Moss, calling him a no nonsense type man who "ran a tight ship" and one who he proudly called his mentor". "Renaming of the WSC Headquarters in honor of Mr. Moss was a unanimous decision," noted Laville; "this decision of renaming our building is fitting for all of the contributions he (Mr. Moss) had made, not only here at WSC, but to The Bahamas."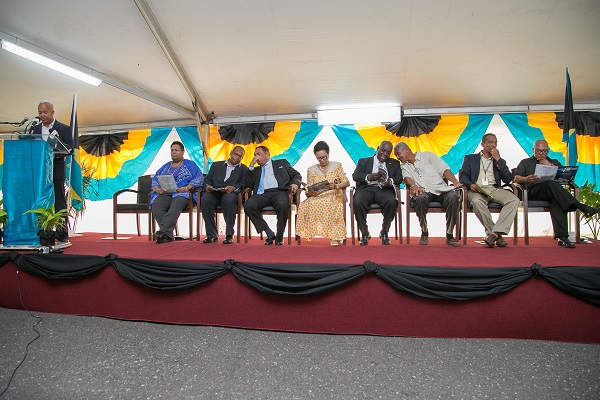 Master of Ceremonies, Mr. Robert Deal, Deputy General Manager, Water and Sewerage Corporation
Deputy Prime Minister Phillip Davis echoed the sentiments of Mr. Laville, and added that "for a country so dependent, at the time, on the expertise of expats, Mr. Moss showed that in a young Bahamas, Bahamians were ready to lead the charge, and this was evident by the excellent work of the WSC, under George Moss' leadership." While Prime Minister Christie added to the praise of Mr. Moss, calling him a "Great Bahamian, deserving of every commendation." Christie added, "Moss demonstrated what integrity in office was all about," and was pleased to see that the WSC would honour him in this way; "lifting the names of persons who've worked hard to make a name for themselves."
Though unable to attend the event due to ill health, Mr. Moss' son, Dr. Adrian Moss, spoke on behalf of his father and his family. In a very touching and moving speech, Dr. Moss said his father wished to thank the Board and Staff at the WSC for bestowing this honour on him, and for the many years of allowing him to serve as General Manager. He also noted his father would want to thank his wife (Maggie) of 49 years, who was a great support to him, as well as his family. Dr. Moss concluded by personally thanking his father for showing that with hard work and dedication, one can accomplish anything; and, noted that the legacy of his father, "is one created in water; for even the littlest stream can make its mark on the biggest mountain."
After the ceremonies, Master of Ceremonies for the event, Robert Deal, WSC Deputy Manager, invited distinguished guests, the Board, and Staff members of the WSC to watch as Mrs. Moss and her son, Dr. Moss, officially unveiled the signage and plaque, commissioning the naming of the building to officially, the E. George Moss Building.
 Dr. Adrian Moss, son and Mrs. Maggie Moss, wife of Mr. E. George Moss unveil the renamed E. George Moss Building.
As the WSC team looks to the future, they are continuing their commitment to quality and service, recently having announced that they had reduced their non-revenue water loss by more than 50%, saving nearly 3 Billion gallons, by upgrading their infrastructure, and continuing to expand their services to additional family islands. Upcoming for the Corporation this year, will be a roll out of a WSC Mobile App, the first of its kind for any Government-owned Utility provider, continuing with their Win Back initiative to regain their customer base in New Providence, and preparation of a Wastewater Treatment Master Plan.
---
WSI Genesis
Action Hosting - WSI Genesis Google Cloud hosting solutions are designed to meet your growing business needs. Providing the most advance Wordpress development and hosting on the Google cloud.
---